Nestled in the beech and oak forests of the Bergische Land, just twenty-five miles northwest of Cologne and the Rhine river, the city of Solingen has grown for more than six-hundred years. First mentioned in the 11th century, it achieved city status in the 1400s. World-famous for its steel and weapons industry, shops and factories still produce cutlery, scissors, swords, knives and engine parts.
Made up of five former villages, the city's historic building styles include half-timbered and shale-sided homes.  While Solingen was bombed numerous times, the main attack – Solingen's natives call it "Der Angriff" – happened on the weekend of November 4 and 5, 1944. The city burned for a week and the old downtown was completely destroyed during the bombing.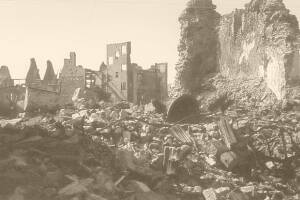 It took five years to remove the debris and many more years to rebuild the town. Today's downtown bears little resemblance with the old city, its cobbled streets and  narrow passages.
Because of hundreds of bombings, soldiers leaving and people moving, Solingen's number of  citizens  shrank from 140,000 in 1939 to less than 95,000 by 1945.
Thanks to the photographer brothers Hans, Max und Richard Stöpfgeshoff and their surviving sister Ilse Weber who shared the images, we get a glimpse of the old town and what life used to be like pre-war.