Amazon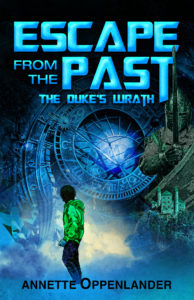 ' Barnes & Noble' Powell's'IndieBound
ISBN: 978-3-948100-02-5 (eBook)' 978-3-948100-03-2 (Paperback)
Price: eBook $2.99' Paperback $14.99
Page Count: Paperback 299 pages
Publication Date: July 31, 2015' 2nd Edition: June 15, 2019
Escape from the Past: The Duke's Wrath is a science fiction time travel action/adventure novel that will grip the reader's total attention from beginning to end. Very highly recommended for school and community library YA fiction collections…" Midwest Book Review
YA Time-travel and Medieval Action/Adventure
When fifteen-year old nerd and gamer Max Anderson thinks he's sneaking a preview of an unpublished video game, he doesn't realize that 1) He's been secretly chosen as a beta, an experimental test player. 2) He's playing the ultimate history game, transporting him into the actual past: anywhere and anytime. And 3) Survival is optional: To return home he must decipher the game's rules and complete its missions, if he lives long enough. To fail means to stay in the past…forever.
Now Max is trapped in medieval Germany, unprepared and clueless. It is 1471 and he quickly learns that being an outcast may cost him his head. Especially after rescuing a beautiful peasant girl from a deadly infection and thus provoking sinister wannabe duke Ott. Overnight he is dragged into a hornet's nest of feuding lords who will stop at nothing to bring down the conjuring stranger in their midst.
Historical Novel Society
Geared to a young adult audience, Escape from the Past is an entertaining and fast-paced read that guarantees to thrill any young reader's/gamer's wish to be a hero in a faraway time. Read full review.
NetGalley
I loved this book. I connected with the characters straight away and felt that I knew each one of them. I couldn't put it down, and was disappointed when I finished. I shall definitely be reading the next installment. I'm passionate about history and I get so excited when an author introduces me to new historical facts. Annette Oppenlander has done just that. She has taken a wonderful story from history, added her own fictional characters and has written a fantastic novel.
More Praise for Escape from the Past
Fast-paced compelling YA debut "Giselle Green, #1 Bestselling Author of A Sister's Gift 
A wonderfully crafted romp to the time of lords, ladies, and knights. Cool gaming experience is an understatement as young Max finds himself in the 1400s as he's beta testing a new video game. History is made, intrigue abounds, and the bonds of friendship are forged as a modern-day boy bravely navigates the past. Are you Max enough to play the game?"Lee Ann Ward, Author and Former Senior Editor of Champagne Books
Escape from the Past is chock-full of the tiny details that make a story feel realistic and immersive, from the leather ribbons used to fasten shoes to the slimy gruel that formed the bulk of the peasant's diet. I particularly enjoyed how Oppenlander shows the dramatic contrast between the way peasants and the aristocrats lived in the middle ages. Those who love historical fiction or medieval fantasy will certainly enjoy Escape from the Past." Mike Mullin, Author of the Ashfall Trilogy, full review at Mikemullin.com
Explores themes of medieval living, feudal system of lords and peasants, history of Thuringia Castle Hanstein in Germany, Knight Werner von Hanstein and Duke Schwarzburg
Perfect for
Teens
Teen Boys
Gamers
Reluctant Readers
Fans of Medieval History
Fans of Action/Adventure
Fans of Time-travel