Growing up in Europe the Wild West has always held a special fascination for me. My father and I would watch endless westerns and I devoured books set during the gold rush and pioneer days. So, while I wrote "Escape from the Past: The Duke's Wrath" set in medieval Germany, I knew I'd sent Max to an entirely different place in book two.
Teacher Review
"As a huge fan of historical fiction, I knew this novel would be in-line with what I devour in the book department. The addition of the science fiction element of time-travel (think A CONNETICUT YANKEE IN KING ARTHUR'S COURT) add a depth of discovery to Max's experiences; the reader gets to discover about the West right along with Max.
Both books from Escape from the Past are now on my suggested reading list for my students. I had THE KID on my What I am reading now sheet displayed by my door. This prompted several students to ask about it and my opinion already….More
Billy the Kid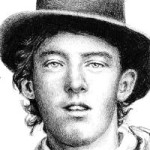 I knew I wanted Max to meet Billy the Kid. The Kid is such a tragic figure among the outlaws because he was set up by ruthless men several times. He was certainly no angel, had had a rough time during his teenage years, but by the time he turned 20, he wanted what most young people wanted then. Settle down, work and raise a family. He wrote four appeals for a pardon to Governor Wallace, each well written with excellent penmanship. I saw some of the original letters in the Billy the Kid museum near the old Fort Sumner site in New Mexico.
He never got a chance for a normal life, Governor Wallace too busy with the writing/publication of Ben Hur, and Billy's friend, Pete Maxwell, too worried about Billy hooking up with Pete's sister, Paulita. So, Pete alerted Sheriff Pat Garrett and the rest is history.
Chief Nana
I had always wanted to create a story with Native Americans. And when I learned about Chief Nana, an ancient warrior who in the summer of 1881 had ridden a 3,000-mile vengeance raid against the U.S. Army and was never caught, I knew I wanted him in my story. The timing was perfect and Nana was an amazing man worthy of being commemorated for being a great warrior. He was married to one of Geronimo's sisters and lived to the age of 96.
Research
In April 2015 I traveled to New Mexico and spent 10 days driving across the vast state. New Mexico has a marvelous sky that goes on forever. Its land is just as vast, sparsely populated and ruggedly beautiful. It was easy to imagine Max traveling on horseback or donkey, on his knees and on foot. I spent a couple of days in and near Fort Sumner to walk the old site where the original Fort used to be. I saw the Pecos River and visited the Bosque Redondo Memorial – not relevant for my novel, but worth a visit. My tour took me to Lincoln where Billy was kept in the local jail and made his escape after shooting two deputies. I crossed over the Rio Grande and headed toward the Black Range located in the Gila Wilderness.
Thank goodness for a jeep. Traversing through parts of the mountains proved quite an adventure, the roads rugged and full of holes. Though the 45 miles took us more than five hours, this portion of the trip gave me a great feel for the landscape of the Black Range. At one point we stopped in a red-barked pine forest, the trees swaying and whispering, the air filled with the most amazing pine scent. Shortly after we emerged on top of a ridge with incredible vistas of the adjacent mountains. It was easy to see why Chief Nana was able to evade the U.S. Army. It was also easy to see why Max was very afraid of traveling alone.
Discussion Guide
Here is a list of questions to help spur discussion. 1.Why does Max feel he needs to escape from his current life? What would you have done? …download PDF