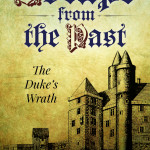 In 2012, on recommendation of a friend, I visited Castle Hanstein in Thuringia, Germany. Today a well-preserved ruin, Hanstein was once the home of the Hanstein family. As with most castles, Hanstein perks high atop a red sandstone formation with a breathtaking 360-degree view of the land.
After spending a couple of hours exploring the old walls, the cellars and the one restored tower—during the cold war East Germany used it to spy on the West—I knew I had to write about this beautiful place. Especially after learning about Knight Werner von Hanstein who lived in these walls toward the end of the 15th century.
By the way, the castle drawing on the cover by Walther Reccius depicts Hanstein around the year 1450.
The Midwest Book Review
"Escape from the Past: The Duke's Wrath is a science fiction time travel action/adventure novel that will grip the readers total attention from beginning to end. Very highly recommended for school and community library YA fiction collections, it should be noted for personal reading lists that Escape from the Past: The Duke's Wrath is also available in a Kindle edition."
Teacher Review
"I love time travel books. This one here was over the top. You have a kid transported to another time through a video game. Every kid today will be able to identify with that. Imagine going from current time to medieval times. No matter what you have read in books, you would not have everything you need to fit in… More
The Town
Following the steep path, we arrived in Bornhagen, a small village at the foot of Castle Hanstein. Its most famous building has to be the Klausenhof, a historic inn fit for any lord or lady. While Bornhagen didn't come into existence until 1536, the Klausenhof has served countless weary travelers in need of refreshment and a bed since 1487. In other words I used a bit of artistic license when placing Max Nerds at Hanstein in 1471 and 1473.
Research
Of course, just walking through a ruin is not enough to write a story. After visiting the castle I dug into researching the Middle Ages in Germany. The period I settled on, the late Middle Ages, were particularly interesting because Knight Werner had been involved in a long feud with Duke von Schwarzburg. I got hold of the historic collection of stories Carl von Hanstein, one of the Hanstein descendants, had collected in 1856/1857. It included family trees, official entries in city annals and a few pages that described the activities of Knight Werner.
Once I decided on one of the main characters, I had to learn about medieval living. Unlike today, society was sharply divided into the have-not peasants and have lords. Each group had distinctly different lifestyles, so I set to work learning about their foods, living quarters, dresses, illnesses and healing methods, and belief systems.
Medieval German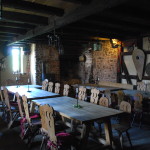 When I studied language, I found that middle or medieval German was like a foreign language. In fact, no German citizen today would be able to understand a word. I could neither use middle German nor translate it. So how was I to convey a medieval dialect without sounding like old English and worse, slowing the pace. Somehow, I had to create a distinctly German feel to the language without using a lot of foreign words. I decided on sprinkling in select German words that were similar in English and could be understand by an English reader, a bit of medieval prayer and song as well as the occasional old-fashioned expression.
Discussion Guide
Here is a list of questions to help spur discussion. 1. How does Max's relationship with Bero change over time? …download PDF
Author Notes
The German Middle Ages were a fascinating yet harsh time. Here are the facts that books I and III of Escape from the Past were based upon. …download PDF