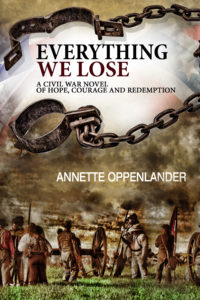 ORDER NOW
Amazon' Barnes & Noble, IndieBound
All books are available at your favorite bookstore!
ISBN: 978-0-9977800-8-6
Paperback $16.99 eBook $3.99 Audiobook $19.99
Paperback Page Count: 270
Publication Date: February 17, 2018
"Oppenlander's rich, gritty descriptions are a joy to read. Her touching story moves along quickly, but will keep you in suspense until the final pages." Historical Novel Society
Historical Action/Adventure
A farm boy's choice to protect his friend, a slave, from a brutal attack forces both on separate journeys: one escapes into war, the other is sold into slavery. Told from alternating viewpoints, one black and one white, Surviving the Fatherland author Annette Oppenlander delivers another stunning historical tale set against the epic backdrop of the American Civil War, a breathtaking examination of the power of hope and friendship, and the endurance of the human spirit to find a way home.
Tennessee, 1861. Fifteen-year-old farm boy Adam Brown would do anything to protect his friend Tip, a slave at the neighboring plantation, even if it means fighting Nathan Billings, the rich and obnoxious landowner's son. But when it seems his attack has killed Nathan, Adam has no choice but to run away and join the Union Army under an assumed name. Together with Wes, a chatty soldier with a few secrets of his own, Adam embarks on a traumatic odyssey through the war-torn Midwest. As his soul darkens with the atrocities of war, all he wants is to go home. But in order to do that, if he survives, he must face his past.
"…dramatic twists did make me think of some of those grand tales like North and South and Gone with the Wind…" Andy's Young Adult Books
Unbeknownst to Adam, sixteen-year old Tip is sold to a farmer who takes drunken pleasure in torturing his slaves. Tip quickly realizes that if he wants to survive he must run. Ahead lie hundreds of miles of unknown country, infested by slave owners, traders, starvation and cold. And so begins a journey of escape and recapture, of brutal attacks and unexpected kindness. When a rescue by the Underground Railroad goes terribly wrong, Tip finds himself caring for a pregnant runaway, his journey seemingly at an end. They have reached the Ohio River, a vast watery expanse impossible to cross. It is only a matter of time before roaming slave traders will pick them up, he will never see his mother and his best friend again.
Explores themes of war (Civil War), slavery, Underground Railroad, friendship, survival, the importance of home and family
Perfect for
Fans of Historical Fiction
War and Survival Stories
Boys and War
Fans of the American Civil War
Students
Audiobook Sample
SaveSave
SaveSave