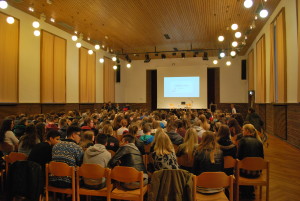 An author visit is a wonderful way to promote literacy and create excitement for writing and history. Because of the subject matter and the average age of my readers, I typically visit 7th grade and up.
To make a visit the best it can be, I work with teachers/coordinators to fit into your schedule while maximizing time with the teens. Classroom presentations vary from writing workshops, to historical lessons and author related material such as a reading and Q&A.
Some of my books and materials are available at TeachingBooks.net.
Sample Presentations 
Workshops
How to write your first novel, including 15 tips on how to write like the pros
Beginnings: The components of a first chapter
Plot, dialogue, inner and outer journey – creating compelling fiction
Dialogue: What are you trying to say?
History
Rocking 60s: Love, Peace and the Vietnam War Movement
What you always wanted to know about the Middle Ages and were afraid to ask, including a medieval quiz
The Lure of the American Wild West, plus a Wild West quiz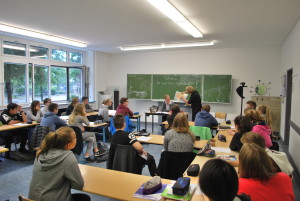 Author/Books
How I became an author or what's it's like to work in my PJs: What does an author do all day?
How a story is born
Book discussions and Q&A
I'm always happy to change up my routine, so if you're interested in a particular subject matter related to writing fiction, you have a different setting in mind or other needs, please contact me.
Free downloadable materials to help you plan my visit
Editable poster to announce my visit
Sheet of bookmarks to print
A Different Truth (7th grade and up)
Escape From the Past: The Duke's Wrath (6th grade and up)
Escape From the Past: The Kid (6th grade and up)
Escape From the Past: At Witches' End (6th grade and up)
Surviving the Fatherland: A True Coming-of-age Love Story Set in WWII Germany (11-12th grade)
47 Days: The True Story of Two Teen Boys Defying Hitler's Reich (6th grade and up)
Everything We Lose: A Civil War Novel of Hope, Courage and Redemption
Where the Night Never Ends: A Prohibition Era Novel
When They Made Us Leave: A Novel about Hitler's Mass Evacuation Program for Children
For writing workshops I provide handouts tailored to writing level and class time.