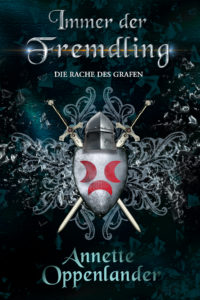 German translation of Escape from the Past: The Duke's Wrath – order now in German!
eBuch $3,99 ISBN 978-3-948100-16-2
Paperback $13,99 ab Oktober 2020
Seiten: 318
Herausgabe: Oktober 2020
»… wird die gesamte Aufmerksamkeit des Lesers von Anfang bis Ende auf sich ziehen. Sehr zu empfehlen…« Midwest Book Review

»… eine unterhaltsame und rasante Lektüre, die garantiert, dass jeder junge Leser / Spieler den Wunsch hat, in einer fernen Zeit ein Held zu sein.« Historical Novel Society
Wie funktioniert das ultimative Computerspiel … wenn man die Regeln nicht kennt?
Wenn es ums Gaming geht, traut sich Max Anderson so einiges zu. Nur tappt er diesmal in eine Falle, ein experimentelles Geschichtsspiel, das Max in die Vergangenheit verbannt. Überleben ist möglich, aber nicht garantiert. Um heimkehren zu können, muss er die Regeln des Spiels herausfinden und die Missionen erfüllen, wenn er lange genug überlebt, zu scheitern bedeutet für immer in der Vergangenheit verloren zu sein.
Jetzt sitzt Max im mittelalterlichen Thüringen fest, unvorbereitet und ahnungslos. Es ist das Jahr 1471 und er merkt bald, dass man als Fremdling schnell seinen Kopf verliert. Vor allem nachdem er eine hübsche Magd von einer tödlichen Infektion heilt und dadurch den teuflischen Möchtegern Grafen Ott provoziert. Übernacht landet er in einem Hornissennest sich befehdender Adeliger, die vor nichts haltmachen, den verdächtigen Fremdling in ihrer Mitte zu zerstören.
Ein spannender Zeitreiseroman, der die wahre Geschichte der thüringischen Burg Hanstein und ihres wohl berühmtesten Ritters, Werner von Hanstein, mit viel Witz und Abenteuer zum Leben erweckt.