Welcome
Hi, thanks for stopping by. Here is my pooch, Mocha, trying her best to pose for the camera. It's a tough thing to sit still when you're a dog. We picked her up at the Humane Society in 2004. (She really picked us.) I hope you can stay a moment and see what's new: another release in March and some editorial feedback for my novels. News and Appearances have been moved to the bio section and are pretty short right now because I just moved to Germany. It's a good thing I write wherever I am. Also check out the rest of my site like my published books, what I'm writing now, or take a look at my blog, which tells about current activities. If you have comments or questions, please contact me. I love hearing from readers and fans and answer every e-mail.
New Release of WWII Story "When They Made Us Leave"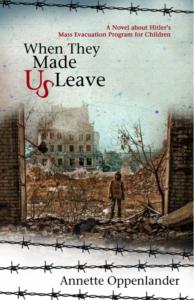 "Oppenlander masterfully weaves historical facts with fiction to present a grim yet optimistic tale of cruelty, grief, love, kindness, and redemption. The mood is somber from page one, but I was sucked into the story due to her incredible storytelling skills and true-to-life characters… highly recommended." Reviewed By Debjani Ghosh for Readers' Favorite – Five Stars
I'm excited to share with you the new WWII novel, WHEN THEY MADE US LEAVE, a story about Hitler's mass evacuation program for German children and youths. After studying many books and reading and listening to eyewitness reports, I put together an exciting story about two youths, Hilda and Peter. Read more about it on the book page.
Also now available in German! Order Now
German Translation of "Surviving the Fatherland" Now Available!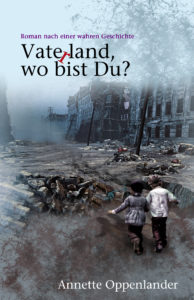 Two years after I moved back to Germany, I'm proud to announce the release of the German translation of SURVIVING THE FATHERLAND. Paperback, ebook and hardcover are now available where books are sold.
"Where the Night Never Ends"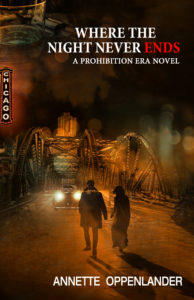 My exciting new somewhat romantic prohibition novel is ready to order. It's not really historical romance, rather historical fiction with a good dose of romance. Sam, a penniless young woman in search of her missing brother and a hobo burdened with a big secret, journey to Chicago's glamorous yet crime-ridden 1920s where prostitution, bootlegging, and corruption rule. Separated by fate and brought back together by chance, WHERE THE NIGHT NEVER ENDS is an unforgettable tale of courage and perseverance, a tribute to the triumph of hope and love against all odds. More… Order Now
Everything We Lose: A Civil War Story of Hope, Courage and Redemption
"I highly recommend this historical book for all Civil War fans but also for those who just enjoy a good human story that will make you smile and cry."-Readers' Favorite Five Stars
"Oppenlander's rich, gritty descriptions are a joy to read. Her touching story moves along quickly, but will keep you in suspense until the final pages." -Historical Novel Society
Two friends – one black, one white. Torn apart by an attack gone wrong. One escapes into war, the other is sold into slavery. Told from alternating viewpoints, one black and one white, this is an exciting historical tale set against the epic backdrop of the American Civil War – a breathtaking examination of the power of hope and friendship, and the endurance of the human spirit to find a way home.
Surviving the Fatherland: A True Coming-of-age Love Story Set in WWII Germany
More than 600 reviews on Amazon with an average rating of 4.7 out of 5 Stars
"This book needs to join the ranks of the classic survivor stories of WWII such as "Diary of Anne Frank" and "Man's Search for Meaning". It is truly that amazing!" InD'tale Magazine
"This book is eye-opening and heartbreaking, and I would recommend it to anyone with the slightest interest in the war… I highly recommend this book!" San Francisco Review of Books
"This novel is fast-paced and emotively worded and features a great selection of characters, flawed and poignantly three-dimensional." Historical Novel Society
"I loved this book!" Readers' Favorite Five Stars
SURVIVING THE FATHERLAND, a historical saga/coming-of-age novel set against the backdrop of WWII Germany, continues to be very successful and draws excellent reviews. This novel focuses on what war children born into the Third Reich experienced and how this experience colored their lives and relationships. I worked on this novel for 15 years, took it through more revisions than I can count. At last I felt it was ready to be seen and help illuminate an aspect of WWII we rarely talk about: the children's war. SURVIVING THE FATHERLAND is a true story, based on my parents who grew up in Solingen, Germany. In 2002, I recorded their memories, unaware that my mother would pass away within two years. How I wish I could share this work with her. Read more about my family's story on my blog.
Listen to the first chapter.     SaveSave SaveSave SaveSave SaveSave SaveSave SaveSave SaveSave SaveSaveSaveSave SaveSave SaveSave SaveSave SaveSave SaveSave SaveSave SaveSave SaveSave SaveSave SaveSave SaveSave SaveSave SaveSave SaveSave SaveSave SaveSave SaveSave SaveSave SaveSave SaveSave SaveSave SaveSave SaveSave SaveSave SaveSave SaveSave SaveSave SaveSave SaveSave SaveSave SaveSave SaveSave SaveSave SaveSave SaveSave SaveSave SaveSave SaveSave SaveSave SaveSave SaveSave SaveSave SaveSave SaveSave SaveSave SaveSave SaveSave SaveSave SaveSave SaveSave SaveSave SaveSave SaveSave SaveSave SaveSave SaveSave SaveSave SaveSave SaveSave SaveSave SaveSave SaveSave SaveSave SaveSave