Two weeks ago my husband and I set out to go camping in Michigan. We'd prepared well, bought a tent, dusted off sleeping bags, cooking utensils and air mattresses. We'd bought Michigan's Best Tent Camping and Trout Streams of Michigan, we had bicycle gear, fishing gear and everything in-between. The GTI was packed to the gills.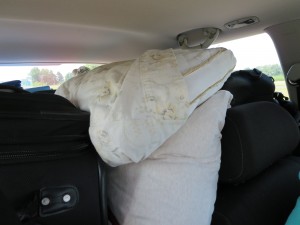 We'd told ourselves to have an open mind, especially after 23 years of sleeping in plush hotel rooms. Our first stop was a rustic campground in Warren Dunes State Park along the southwest beach of Lake Michigan. So when we arrived we quickly set up our nice new tent on top of a nice new tarp, made beds and arranged our cook station.
Ready for a Swim
Since it was a hot humid afternoon and the mosquitoes immediately began to swarm we decided to go swimming in Lake Michigan. According to our map, a trail led across the dunes straight to water—nothing like a nice swim to cool and clean off.
Swimsuits on, we grabbed towels and headed into the woods. The trail soon climbed, the trees cool and whispering above. This was going to be great fun. Despite the cool air we began to sweat again. Strange that we saw nobody out here. When the trees thinned on top of the hill, we got excited. We're there, we silently thought, glad to finally take a break. Not!
In front of us the dunes rolled in folds. We could see the lake… in the distance. Still we didn't want to turn around and slid down the sandy slope through dune grasses. Birds sang. It was absolutely quiet otherwise, beautiful. Still we saw nobody. It was just us and nature. Even though the dune grew steeper we felt adventurous as pioneers. We took off our shoes, the sand warm and soft between our toes.
By the time we arrived on the beach we'd walked nearly an hour. The prize: a deserted beautiful stretch of Lake Michigan—our own personal beach. Cool and refreshed from the water we headed back, the dunes before us rising higher and higher. My thighs became unreliable, each step sliding backwards until I could hear my heart pounding in my neck. Since when had I gotten so out of shape?
Attempting to Sleep
Back in camp we were once again soaked in sweat and just like us the mosquitoes were ready for dinner. We tried our natural bug spray made with essential oils. The mosquitoes were unimpressed so we moved on to commercial strength. Better! Except now our skin felt even stickier with bug spray residue. A fire would've been nice but we were too tired. By eight p.m. we were in bed. As soon as I closed my eyes I noticed it: a terrible racket. Cars whooshed by at top speeds as if our tent sat ten feet from the road—Interstate 94. How could we have missed it?
No matter that I was tired and my legs ached from hiking. All I heard were trucks and cars. I asked myself how this campground could've been selected as one of the best campgrounds in MI. Obviously the author never spent a night here.
Needless to say I didn't sleep much that night nor the following night we'd committed to. Well, the second night had the added bonus of a major thunderstorm and in the middle of that a deflating air mattress. I woke up around 10 or 11 when the storm hit. This one meant business as water pounded our tent and I wondered if we'd swim away, tent and all. By then the air mattress was at least half deflated and, lying on my side, I could feel my hipbone making contact with the ground. While my head was high on the extra firm pillow I had invested in, my bottom was low. I fell asleep eventually, the mattress lovingly folding around me, my entire backside on the ground. Isn't camping fun?
Our gear wet, gritty with sand and mud, we packed up in the morning, vowing never to return. We snuck into the "plush side" of the park's campground, took a shower and with a sigh of relieve headed for Rochester to visit our friends.
End Result
Of 12 days on the road we spent five nights with friends and family in real beds with nice indoor plumbing and two more nights in hotels. We didn't fish at all and rode our bikes once. Total camping nights: four of which three were with rain.
If anyone is in need of a tent, let us know.