As in previous years, when we visited Germany, we planned to do a bicycling tour. Since we only had four days, really only three when considering the train ride to and from, we decided on starting in Trier, Germany's oldest city. Little did we know what awaited us.
The weather was perfect when we rolled into Trier Hauptbahnhof. We'd reserved bikes at Radstation Trier which is located inside the train station. Without a glitch we took off toward the Mosel. After a few miles we arrived at the intersection where the Ruwer river flows into the Mosel. Here, we turned south to follow the Ruwer. Compared to the Mosel, the Ruwer is tiny, no more than a creek. The bike trail is perfectly paved and we took off to find a place for lunch. Sufficiently strengthened with Flammkuchen, a type of pizza, we headed south.
Uphill Battle
The trail took off, but after about 30 minutes of steady paddling we came to understand that it went uphill without a single break. Impossible to coast or rest without stopping, we pushed on. Around every curve, the path rose. Another hour later, we decided it was time to find a room. Except that the few tiny villages we passed had no pension, no hotel or B&B – nothing
except tidy houses with perfect gardens tucked into the hills of the mountain. This was definitely not like the Mosel where you have many choices of rooms in any given city. In our zest to move forward we had overlooked the fact that rooms were only available during the first few miles of riding the Ruwer.
We ventured on, the sun hot on our heads. The landscape of woods and wildflowers beautiful, the trail full of smiling bikers coming our way. No wonder as they were going downhill with the wind on their backs. The Ruwer seemed to mock us, easily gurgling below us.
No Luck
Around five p.m. we arrived in Hentern. At last, this place had a hotel. Finally. Heavenly smells welcomed us when we entered the restaurant. Sorry, the server said, we don't have any rooms available. I shook my head on the way out. The saddle of my bike had begun to look like it was made of cement. My legs revolted.
An hour later we arrived in Zerf, another small village and the farthest southern point of our self-selected bike route. From here we would head west toward the Saar river. Our thighs had turned to burning coals, our throats ached like sandpaper.
The Last Resort: Zerf
Near the bike trail, another hotel appeared. Except it looked old and dilapidated with peeling paint and no menu in the window. The man in front told us, it had been closed for years and now functioned as an apartment building. No beds, no shower and no food. Getting somewhat desperate, we asked about a place to stay. He directed us toward downtown. The former Postal service. Maybe.
We passed by a small park. I eyed the park benches and wondered if we'd stay here tonight. Or potentially, the hazelnut thicket in back. It'd be cold and damp without a tent and sleeping bags. We didn't even have towels.
At last, we arrived in the center of town, no more than a curve in the road. And there stood
the former postal office – in the middle ages – and now restaurant and hotel. A woman appeared to serve guests on the terrace.
"Do you by any chance have rooms for rent tonight?" I blurted.
The woman looked at me, her gaze beginning at my dust-covered shoes going all the way to my red face, and sweat-soaked hair.
"Yes," she finally said.
"A double and a single?"
She nodded.
I breathed.
We were safe. Our rooms were seventies vintage, but clean, the bathrooms sparkling. I forced my thighs to move to the patio outside. Water and beer began to flow, followed by a hefty meal of salads and fresh white asparagus. Do I need to tell you that I slept well that night. Though this had only been the first day.
We found out later that our hotel was really only a restaurant. "Zur Post" had no listing of rooms. We must have looked desperate enough.  Danke Frau Marx.
 About the Ruwer Hochwald Trail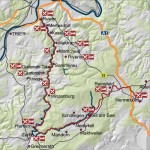 The Ruwer trail, a former train tressel, is beautiful and well paved. Maps along the trail alert the rider about nearby villages. The landscape is wildly romantic and beautiful with thick conifers, pines, hazelnuts and wild flower meadows. It is serviced by a bike bus which takes riders into the mountain to Türkismühle and allows them to ride downhill back to Trier.