To celebrate hubby's 60th birthday, we visited Bardstown in Kentucky. After experiencing so many wonderful B&Bs in Germany, and being tired of the sterility of large corporate hotels, we stayed at You're Invited Inn — see what I had to say on Trip Advisor.
Whiskey Tasting Number One
Our first order of business led us to Heaven Hill Distillery on the outskirts of Bardstown. Unfortunately, mass tourism has taken over. We were immediately sold a $3 "mini-tour" of the historic exhibit which we could have studied by ourselves. Our guide was sweet but not a good speaker and we hobbled our way through the displays of the Shapiro brothers and Elijah Craig who all contributed to the success of today's distillery. With more than 1,000 labels, Heaven Hill has nothing left of the unique bourbon distilleries that made Kentucky famous. Especially once hearing that they bought up many distressed distilleries during and after the prohibition and took advantage of less fortunate souls. But we don't want to get political today.
The bourbon tasting took place in the adjacent store whose center is a giant keg-shaped tasting room, only open for official tastings and visitors with deep pockets. As lowly tourists we stayed in a roped-off area near the window. A dollop of Elijah Craig's 10-year whiskey was presented in a plastic cup — just enough to warm the nose and burn the throat.
Whisk(e)y Tasting Number Two
At lunch, an older couple recommended visiting Maker's Mark. Tucked into the Kentucky hills, this distillery is worth visiting, even if it takes 18 miles to get there. After signing up for the free tour, we explored the former residence of the Samuels family, the founders of Maker's Mark. In the office, the black and white photos come to life; talking to each other about the roles they had making the label famous. The kitchen, all chrome and red, still shows the pot where Mrs. "Margie" Samuels added the characteristic red wax seal.
Even though the temperatures rose to 100 degrees, the enthusiastic tour guide led us across acres of grounds.  All buildings are painted in brown, red and green and the park-like setting was even beautiful while sweating. No wonder it's been designated a National Historic Landmark. The brewing building — another 20 degrees hotter — housed 100-year old cypress vats large enough to swallow
a bus. Inside, the mash bubbled furiously and we were encouraged to stick a finger into the brew to taste. After seeing the store house, we stopped at the bottling facility, a marvel of modern equipment. But our favorite spot was the tasting room. Three snifters from clear — technically not bourbon — to the flagship Maker's Mark whisky (yes, it's spelled correctly) to the specialty, named "46" waited for us. We finished off with a tasty bourbon ball. The tour ended in the ultra-modern store where you could buy golf attire, picnic ware and of course, lots of Maker's Mark.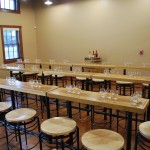 Instead of purchasing more stuff we don't need, we ended up in the swimming pool in the garden of our B&B. Perfect!
Isn't it strange that Heaven Hill distillery is privately owned, but acts like an impersonal large corporation, only interested in siphoning off maximum profit while Maker's Mark has been sold and resold and is part of Beam Inc., a large corporation, but has retained its small "family" feel. Maybe they are just the smarter marketeers.