Like many other places in Europe, the buildings around Solingen's Alter Markt – old market – no longer exist. Neither does the famous statue of the sword smith Peter Hahn who towered above the famous water fountain and was a symbol for the city's centuries-old metal and weapons industry.
Solingen was bombed on November 4 and 5, 1944. Solingen's citizens, that is those that still live today, just call it simply the " der Angriff", the attack. Time is measured by looking at events before and after the attack.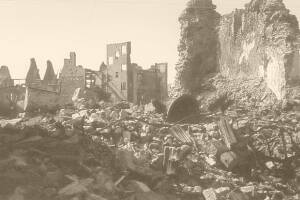 The town had been on the chopping block much earlier but bad weather prevented the British Royal Air Force from finding a clear target. By the time, they did, most cities of Solingen's size had already been hit.
It took citizens until 1950 to remove the last of the rubble and make room for new buildings.