An Introduction
Most of the family members depicted and written about have passed on and though they had long lives and I knew them all for many years, I neglected to ask them about their past. I was fortunate to know my grandparents and live close to both. As a child oblivious to their past, as a teen not caring about family, period, and in my twenties too busy to pursue my career goals.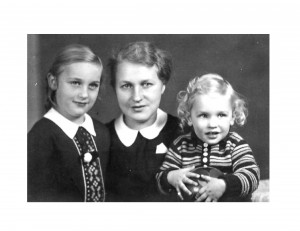 By the time I was thirty, I lived in the U.S. and my grandparents had died. Luckily, my parents remained healthy and finally by the beginning of the 21st century, my curiosity had grown and pushed me to learn more about my family's past.
What I learned was that we had a mixture of sad, tragic and angry skeletons in our closets. Ugly memories reared their head as I interviewed my parents while pouring over old photos like the one on the right, showing my mother on the left, her mother Luise and brother Burkhart.