Last Monday, my husband had a total knee replacement.
It had been ten years in the making. With every year, as pain increased and the ability to walk and hike decreased, the dreaded event moved closer. Until pain was constant: at night in bed, at the desk in the office and especially when moving.
A couple years ago, things took a turn for the better when he switched to a mostly vegan diet. By avoiding acidic foods like meats and diary, he not only lost weight, he extended the life of the severely impacted knee joint.
This year, that no longer worked. It was time.
The surgery was swift – about an hour. Shortly after, the physical therapist showed up for the first session. And voila: he was back on his feet, limping his way across the hall. Not much later on the same day he went home.
But that isn't the reason why I wrote this blog. It's really about the man and his dog.
Because the minute the big guy – that is how our dog Mocha refers to my husband – returned home with a severe limp, she was disturbed. She hung her ears and hovered. Something was so terribly wrong, but she couldn't put her paw on it.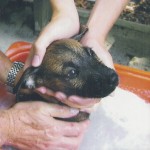 The love affair had started nine years ago when we met a little brown runt with dumbo ears through the humane society. Though I've been in charge of walks and serve as protector during thunderstorms, I've never quite achieved the top dog standing my husband enjoys. When he returns home from work, the dog appears by his side to collect a few ear scratches. A little later she lays her face on the chair to gaze at him. At night she sleeps on the floor next to him.
So a day after the knee surgery, Mocha decided to chase a cat and when she returned to me after a severe scolding, she walked on three legs, her right hind leg limply in the air. Oh, did I mention that the big guy's new knee is on the right?
A trip to the vet confirmed that Mocha had likely torn a tendon in her right knee. Which begs the question: Did she do this to be closer to her big guy? It sure is curious. Despite man and dog in pain, I can't suppress a smile when I see them hobble around the house or rest together: one on the couch, one below.
In sickness and in health.