I'm proud to announce that my short story BLACK MARKET has been published by Circa, a historical fiction journal. In 2002 I interviewed my parents about their childhood. My father, born in 1928 and my mother, born in 1932 were war children, pawns of the Third Reich. They saw their fathers drafted as rations dwindled into starvation and bombs rained.
In May 1945, when WWII finally ended, Germany was destroyed. Solingen, my parents' hometown, had turned into mountains of rubble, thousands of civilians were dead. It took five years of painstaking cleanup by the famed Truemmerfrauen to remove the worst of the destruction. Nationwide starvation ended in June 1948 with the introduction of the Deutsche Mark. After that, life turned into a frenzy of rebuilding and economic recovery.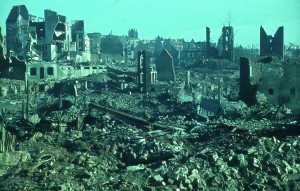 Before this background I wrote the story of two German kids, Helga and Guenter and their miraculous path to each other. It is not just a tale of survival against the odds, but a love story of two individuals who found in each other what they needed most. BLACK MARKET is one chapter from the second book, modified as a short story. Though it's been a few years since I completed the manuscript and I've since written three more novels, I can never quite put the story out of my mind. Like the memory of a life-changing event, the characters and their plight are always with me.

Especially when I come across the images on my computer. Few personal photos exist of this time. Who could afford cameras or film or have the time to pause to take a shot when every shred of energy was spent on securing the next meal and surviving the next assault of carpet bombs? The images I do have speak for themselves. I once commented to my father that he looked so solemn. He said there was nothing to laugh about. I believe it.
I hope the entire novel-in-stories will be published one day.