***New Release This Week***
Get your copy of 'Everything we Lose' now!
Visiting the German-German Border Museum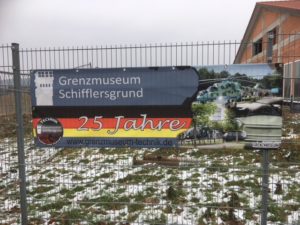 The other weekend while visiting friends, we took a road trip to the former east-west boarder between Hessia (west) and Thuringia (east). Near Bad Sooden Allendorf, right on the original border, lies the first border museum of Germany, Schifflersgrund. The wind blew and it was freezing cold, making it easy to imagine how dreary life must have been, when the two Germanys were still fenced off against each other.
East Germans were told that West Germans wanted to invade the country and therefore the fence was necessary to keep them out. Of course, it was the other way around. The fence held its East German people captive in a giant prison. The entire boarder was fortified with an eight-foot fence, mine fields, automatic shooting machines, no-mans land, soldiers and observation towers. The East German government spared no expense and resource to protect its sick communist regime.
Just five years before the wall crumbled, a east German man who'd been working on the boarder fortifications for years drove his earthmover to the fence, climbed across and was shot dead a few feet from reaching West German ground.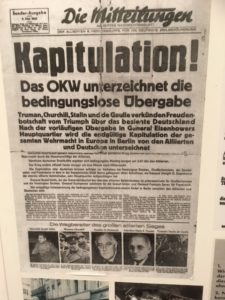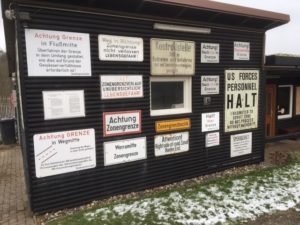 The displays at the museum include photos of politicians deciding the fate of Germany after the war, of men in uniform patrolling the border, but more importantly of every-day Germans whose world was divided over night, Germans in handcuffs for trying to escape to freedom. Even two months before the wall was built, the East German government assured its people, there wouldn't be a wall. That was just one of many giant lies. You'll also see a lot of equipment used to enforce the 'prison,' including cars, trucks, helicopters. Along the entire wall ran a stone path suitable armored tanks.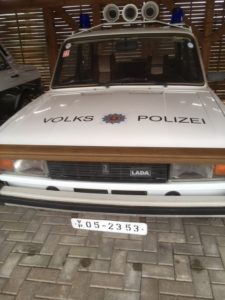 Old folders and newspaper articles, postage and signage show some of the propaganda fed to the East Germans. In a separate hangar are pieces of the Berlin wall and a political timeline about the former East and West German leaders in meetings and then in 1989 at last, reunification. The formerly cordoned-off Brandenburg Gate in Berlin overrun by globs of happy Germans. It must have been amazing to be part of this history. Sadly, at that time, I was already in the U.S. and watched this momentous event from afar.
If you visit Germany, I'd recommend visiting one of the boarder museums for a taste of German-German history.
Next time:
Revisiting Castle Hanstein
Remember my time-travel adventure, Escape from the Past, based on the history of Castle Hanstein in Thuringia? Well, I was nearby and couldn't resist visiting the amazing ruins again.
SaveSave
SaveSave
SaveSave
SaveSave
SaveSave
SaveSave
SaveSave
SaveSave