Reading/presentation of 'Surviving the Fatherland' at VHS Solingen on April 19, 2018 at 19:00. The story is based on my parents growing up during WWII in Solingen. I'll be sharing selected passages from the book that relate to certain occurrences in the war in general and in Solingen in particular.
Please stay tuned for future readings as well as the German version of 'Surviving the Fatherland.'
What: Reading/Presentation Surviving the Fatherland
When: April 19, 2018 at 7 pm
Where: VHS Solingen, Mummstr., Forum
*FREE*
*****************************************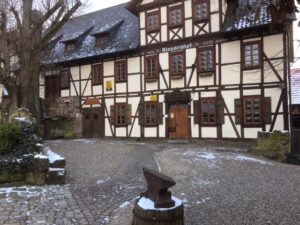 When I visited Burg Hanstein the first time in 2012, I was so awed that it inspired me to write the time travel trilogy, Escape from the Past.
Last month we were nearby visiting friends and the former East-West German border and I had to make another stop. It was an icy and windy day with snowflakes drifting between the old stones. Living here in medieval times must have been so cold. And dark. But oh, it makes for a great story. Unfortunately, the Klausenhof Inn which plays an important role in the novels, was closed for winter break.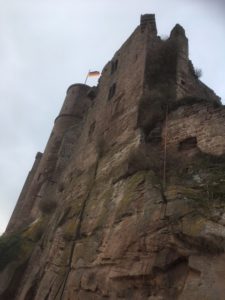 The Hanstein descendants have been repairing parts of the outer wall of the keep and tower. It must cost a fortune to rebuild the 6 to 8-foot deep walls in reddish sandstone. By the way, I found another cellar off the large hall on the right where a few torture instruments, including a rack have been set up. I don't believe Hanstein ever had a torture chamber, but it was a nice touch. Within the large hall on the main floor—from here you can access the only intact tower, courtesy of the East-German government—the history of Hanstein is presented along one wall.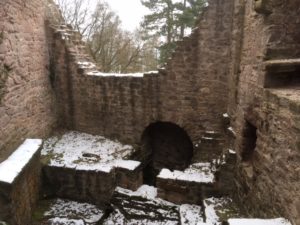 Not much is told about the time, my nerdy protagonist, Max, arrives here in 1471. But Knight Werner is mentioned upstairs in one of the reconstructed rooms off the tower. That's where I first read about him feuding with Duke Schwarzburg over a beautiful woman. In my story, that is Lady Clara.
If you love time-travel and the Middle Ages, check out the Escape from the Past trilogy. You won't regret it. For me I don't think I'll ever grow tired of visiting Hanstein.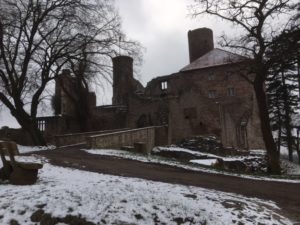 SaveSave
SaveSave
SaveSave
SaveSave
SaveSave
SaveSave
SaveSave
SaveSave
SaveSave
SaveSave