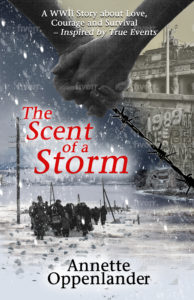 I spent last weekend with what I love most: historical research. The Museum of German History in Bonn, Germany's former capital, is a gem to visit, containing historical information beginning with the Third Reich. The displays are a combination of audio, video, images, print, artefacts and more. Whoever put this together really knows how to create an interactive, entertaining museum.
The museum covers several historical events that my new novel, The Scent of a Storm, captures, beginning with the escape and expulsion of millions of Germans from eastern territories and including the deporting and enslavement of German women in Russian gulags*. Later events in East Germany, the Russian occupation, the Berlin Air Bridge, the breakdown of East Germany and the German unification also play a role in my story.
Search Service for the Missing
By 1950 more than 10 million people were still missing. The Red Cross operated a search service for missing soldiers in Munich and a second one for civilians in Hamburg. People in the East, behind the Iron Curtain, were often not included. The East German search system was less than reliable.
*The post image shows women who were deported by the Red Army and enslaved in gulags throughout Russia. There, they had to work in mines and logging. Many died of exposure and starvation.