Friends, I know it's been a while. Other than the WWII novella, A Lightness in My Soul, I haven't created any new English language works. But now, finally, I present to you an exciting new historical novel, called "The Scent of a Storm."
Over the years I've been meeting many people whose family members, parents or grandparents did not grow up locally. Rather they had been refugees from the East. "From the East" – what an ominous expression. What does it even mean?
I grew curious and decided to research. What I found astounded me. Though between 10 and 14 million Germans had been refugees between 1945 and 1950, very little was said about their terrible plight-their destinies were mostly forgotten and swept under the carpet.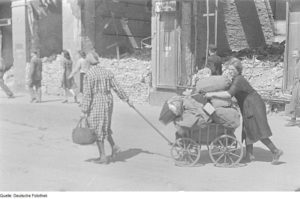 In the winter of 1944/1945, the Red Army moved west to defeat the German Wehrmacht. On their way, Russian soldiers plundered, raped and killed…mostly women and children (German men were fighting the war). When in January 1945 three Russian Armies amassed on the Eastern borders of Germany, the German population in Eastern Prussia began to flee in terror. They packed their merest belongings and began to trek west toward Berlin. But because there were so many and it was near zero degrees Fahrenheit, progress was slow. Slower than Russian tanks and artillery. Very soon, Russians had cut off all escape routes except for one: across the "Frisches Haff," a lagoon on the Baltic Sea, to Pillau and from there via ship west.
Hundreds of thousands attempted the trek. Many died on the way…of exposure, of starvation and by Russian bombardment. There were not nearly enough boats to carry the families and injured returned soldiers, the ship Gustloff was torpedoed by Russians and sank with more than 10,000 people on board.
My story addresses the destiny of these refugees, not just their escape and the horribly difficult circumstances of arriving in a war-torn Germany. It also discusses the issues of losing a home permanently. Because in the summer of 1945, Russia's dictator, Stalin, decided to confiscate all of Eastern Prussia. He took part for himself and gave the southern section to Poland. In addition, all Germans who still lived in Russia, Silesia, Poland, Hungary, etc. also had to leave and abandon all their possessions. To never return to their home, to their identity, houses and land. What is it like to lose your home, know you're forever cut off from what you consider your identity? How do you live with that? Forge a new home?
We should remember these men, women and children, because the world produces refugees in great numbers now. They are coming from Turkey, Syria and Africa, from places where a family is no longer safe. They leave everything behind, never to return.
But "The Scent of a Storm" is foremost a love story that spans more than four decades, a tale of redemption, hope and survival.