Getting Ready
Europe awaits. Excitement is growing as we are prepping our trip to Germany. On the agenda is a bicycling trip along the Mosel, a visit at a vegetarian/vegan bio hotel in the Black Forest and assorted city tours.

Our bike trip will lead us from Trier, Germany's oldest city, downriver to Koblenz where the Mosel flows into the Rhine. Trier is officially about two thousand years old, unofficially, some records speak of the town as far as four thousand years ago. Like shiny pearls, villages and towns string along the river, each offering a glimpse into the past. Castles in various states of ruin watch from above the mountains through which the Mosel meanders in lazy loops in a perfect bed of volcanic Midwestern valleys. To wine lovers the Mosel holds a special place in their hearts and cellars. Riesling, Mueller-Thurgau and pinots are the most common grapes grown here. The past ten years have yielded exceptional wines and we are planning to confirm it through regular tastings. We look forward to visiting many of the family-owned and operated vineyards, often tiny enclaves whose perfect grapevines cling to steep hills in exact patterns.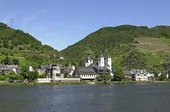 Bicycling
The Mosel bike trail is an ideal path along the river, mostly flat and sometimes available on both sides. From Trier it is about a 130 mile trip, not a great daily distance but perfect to visit towns and landmarks, take photos and taste wines. We will rent bikes at the train station – Radstation Buergerservice – in Trier which offers eight and twenty-seven gear road bikes with lights and racks to attach luggage. Prices range from 40-55 Euros per week per bike.
Maps
A map is a advisable to plan routes, distances and learn the lay of the land. Since the Mosel is well-known for biking, many guides and maps exist. We ordered the bike map from bikeline through Amazon, a selection of maps portioned into manageable daytrips, its pages coated against a surprise shower. Since this guide doesn't include a lot of historic information we plan to buy a local guide on arrival in Trier.
Trier
The city offers daily city tours in German and English, a perfect opportunity to learn more about the old Romans who settled here two thousand years ago. I will know a lot more after our visit.
Accommodations
While you can find Hiltons and Best Westerns in some of the larger cities, most German accommodations are offered by private and small businesses. Families, sometimes for generations, operate bed and breakfasts, pensions and guest houses, rental houses and apartments. Almost always will you find better prices than in the U.S. — the quality of the rooms equal if not better and including a generous breakfast.
But first let me talk about what to expect in your room. Let's take the bed, for example. If you reserve a room you want to make sure to confirm if the price is per room or per person. It is often per person. Typical double beds – Doppelzimmer – are king-size but you'll find two mattresses side-by-side and two comforters, one for each person. As a result, you will sleep better, no wrestling with your partner for the sheets, no plastic hotel blankets that have been used by thousands before you. Instead, a cotton-wrapped comforter that is light and warm. How about the heat? No blowing air from a noisy room furnace, instead a radiator and windows you can actually open. Bathrooms are mostly white and tiled from floor to ceiling. Bring your own toiletries.
Most rooms come with a typical German breakfast. No, it's not continental. German breakfasts are large and tasty. While many now offer cereals, the majority of foods include a smorgasbord of fresh breads and rolls, butter, cheeses and lunch meats, jams and boiled eggs. That's right, no scrambled eggs and bacon, no porridge. You are in Germany.
We will not book ahead this time but ride every day and see what we find in the afternoon. Most villages have several pensions or Gasthoefe and since we aren't there during the main season we are confident to find a bed. In a pinch, one has to ride into one of the side valleys that are less busy. Here, rooms are more reasonable and just as good.
The National Drink of Germans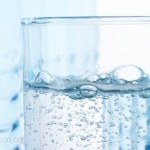 Yes, it's beer but there is another liquid that is equally if not more important — the mineral water. Only Italians drink more water per capita. Harvested from one of the thousands of natural mineral springs in the country, it is harvested pure and contains healthy minerals such as calcium and magnesium. It is not like the carbonated water you get at the grocery store. You can often choose the amount of carbonation from "still" which means low to full-throttle bubbles. Either way, you may find it tasty and refreshing. On the bike, it is a great treat. Buy a bottle or two at a kiosk or grocery store and carry in on your bike for a refreshing cool down.
But you say you want tab water with lots of ice like in the U.S. Sorry, but plain water is not available nor is it free. You will rarely find ice in your drinks and glasses will seem like thimbles to you but you'll get used to it. Relax, live a little, you're experiencing a new culture.