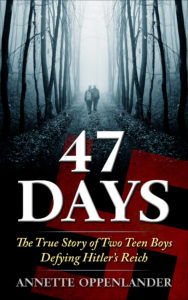 I'm thrilled to share with you the release of 47 DAYS: The True Story of Two Teen Boys Defying Hitler's Reich. 47 DAYS is a 13,000-word novelette, an excerpt from the upcoming full-length novel, SURVIVING THE FATHERLAND.
Based on my father's experience as a youth in World War II, the story takes us into the last months of the war. The 'Reich' is crumbling, but Hitler frantically throws the last warm bodies into battle: old men, the injured and feeble, and all 15- and 16-year old boys. With the Allies and Russians spreading across German soil, it is a wasted effort. Hitler well knows it is too late and that the war is lost. But in his insane mind he justifies discarding the youth of the country. If Germany can't win, they can all go to hell.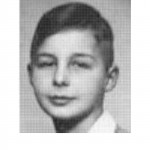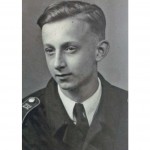 My father, Günter, and his best friend, Helmut, were among those teens, drafted in March 1945. They were told to travel 200 kilometers south to report to the Hitler Youth Office in Marburg and jointedly defend the fatherland. Without training, without weapons. My father and his friend decided it was a bad idea. They chose to think for themselves and disobey. The cost was their lives because being caught meant certain execution.
At the time nobody knew how much longer the war would last. And so the task of hiding and eluding became a race for survival. Not to mention the turmoil, Günter and Helmut must have felt every single day. Had they done the right thing? Would they get caught? Well, they almost did. And they almost died.
I chose to publish this novelette separately because I wanted to share the conflict and threats these boys endured for disobeying orders. If you are interested in historical action/adventure and the state of Germany in the last months of World War II, this story may be of interest. I also believe it would be beneficial for high schoolers studying German history.
Pre-order an ebook or paperback at your favorite retailer.