Escape from the Past: At Witches' End
I'm getting ready to send the final edits of book three in the Escape from the Past trilogy to my publisher. I'm excited as this book concludes the series and I can't wait to see it hit the shelves. Right now it looks like publication will be scheduled for late November 2016.
Here is a Little Introduction
When Max learns that Karl helped spring him from Schwarzburg's dungeon during the first game, he feels obligated to return the favor. Not only because it's the right thing to do, but supposedly Max is the one who rescued Karl from Hanstein in 1473 and helped him return home.
With Karl's programming knowledge Max reluctantly agrees to enter the game a third time. At least he can visit his old friends and get cozy with Juliana while he's at it. But two years is a long time in the Middle Ages. Something foul is in the air. Lord Werner is mysteriously absent and the new guards refuse Max entrance. Even Bero's mother is terrified to see him. With no place to stay, Max soon finds himself on the run from Schwarzburg who hasn't forgotten Max's miraculous escape two years earlier.
When at last Max finagles a way into the castle, Bero is less than pleased to see him, Lady Clara is near death and Juliana is not meeting his eyes. Can Max sway his friends, help Karl and stay out of Schwarzburg's clutches? And will he ultimately stop Dr. Stuler's evil computer game?
"Beginnings" Workshop at The Academy of Science and Entrepreneurship
I just returned from teaching a workshop about the dos and don'ts of first chapters at one of our local high schools. We did a couple of mini-exercises, one to deepen setting by using the five senses and the other to describe our character in greater detail and beyond the obvious. I read the first two paragraphs of Sue Monk Kidd's "The Secret Life of Bees" to demonstrate how Kidd used three of five senses to describe the bees in her room.
HELGA'S WAR is Ready for Submission
After laboring on my newest and oldest manuscript for more than twelve years, I'm finally ready to submit to literary agents. Helga's War tells the true story of two children/youths who fall in love after surviving WW2 and apocalyptic postwar Germany, only to find that their horrific pasts catch up with them when they least expect it. It is a dark story of forgiveness and love against the odds, and not at all your traditional romance.
News Updates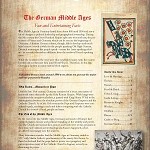 For occasional updates join my mailing list and receive an awesome and "free" collection of facts about living in the German Middle Ages.