Last weekend I had the pleasure of participating in the fifth 'Literary Hike' in the beautiful Vorwerk Park in Wuppertal. Under cloudy but dry skies eight authors and their roughly twenty guests walked and enjoyed beautiful settings together. At various picturesque sites throughout the park authors presented stories and poems.
Since the German translation of 'Surviving the Fatherland' called Vaterland, wo bist du? will be published this month, I read a section from the new book. We also had the pleasure of listening to Michael Völkel's music and ballads, both entertaining and fun.
A New Novel Set in WWII
When Hitler decided to mass-evacuate Germany's children in 1940, he had a lot more than their wellbeing in mind. He had a purpose for those kids, particularly children eleven and older. Sold to parents as 'vacations to protect from bombs and nourish their minds,' the real goal was to train boys as future soldiers and girls to become mothers. Many camps were strictly organized and schedules began before seven am and lasted all day, strapping children into tightly regulated timetables. School time was restricted to four hours a day—less later in the war because of lack of teachers—and afternoon activities increased to include war games and competitive sports.
I wrote an exciting novel with two youth protagonists, fourteen-year old Hilda who is in love with her neighbor and best friend, fifteen-year old Peter. Here is a little intro:
When They Made Us Leave tells the heartwarming love story of two teens who are separated when they're forced to attend separate evacuation camps. Each confronted with terror and cruelty as well as unexpected kindness, they must rise above to survive the war and find each other once more.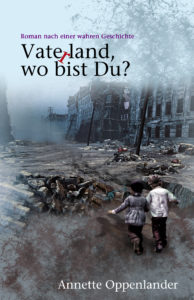 Both characters have deep wounds and secrets they must work through while dealing with the ever-increasing threats of war and the atrocities they encounter in camp. I've also worked in some great historical info I found while researching the dozens of books, magazines and other resources.
VATERLAND, WO BIST DU? Available now in bookstores!
The new German version of SURVIVING THE FATHERLAND is now available in bookstores and online.
I've also been working hard preparing the publication of Vaterland, wo bist du? in paperback, hardcover und eBook. Expected publication will be later this month. Because of language, this edition targets the German language market. I'm hoping to do a number of readings and presentations.