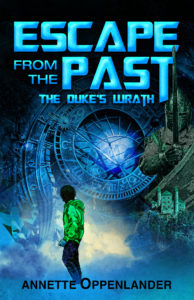 I'm happy to announce that I have received the rights to my exciting time-travel adventure, ESCAPE FROM THE PAST, from my previous publisher. From now on, I'll be doing publication and marketing in-house.
The first step has been updating the three covers that were neither age- nor genre-appropriate. Back in 2015 when the first book was published, I was pretty much unaware of such important details, but since this trilogy is one of my favorite stories, I wanted to give Max 'Nerds' a fresh chance of meeting the world.
In addition, I have reviewed and edited the copy, and added a cool medieval map to books I and III.
I hope that teen boys will rediscover this great story of a computer game gone wrong, catapulting fifteen-year old protagonist Max into the Middle Ages. Unlike many time-travel stories, the historical details of medieval German castle Hanstein are based on fact. Max meets a number of important figures such the impressive Knight Werner von Hanstein and his nemesis, evil Duke Schwarzberg who lived in Thuringia, Germany at the end of the 15th century.
Read more about Max's adventure, watch a trailer, or read reviews on the book page.
Take a look at the new covers of book II, THE KID, and book III, AT WITCHES' END.
A Few Voices From NetGalley
"I loved this book. I connected with the characters straight away and felt that I knew each one of them. I couldn't put it down, and was disappointed when I finished…" Debbie S.
"Wow, wow, wow. I absolutely loved this book from the first page until the last . I was actually transported back in time and felt as though I was living every moment…" Greta H.
"This is a historical novel with time travel and draws upon modern knowledge all interwoven to create a wonderful adventure novel…" Nolan D.
Read more reviews on NetGalley.