Category Archives:
Book Review
"This novel is fast-paced and emotively worded and features a great selection of characters, flawed and poignantly three-dimensional." New review (print version) from the Historical Novel Society
I'm excited to announce that the audiobook version of 'Surviving the Fatherland,' narrated by Naomi Jacobson, is now available on Amazon, Audible and iTunes.
I will also work on getting the book listed with other audio services, but that may be a little while since I'm new at this.
Both Audible and Amazon offer a first audiobook free if you're willing to sign up for a monthly service. You can also listen to a sample to see if you like Naomi's narration.
Listen to a sample of 'Surviving the Fatherland.'
SaveSave
SaveSave
SaveSave
SaveSave
SaveSaveSaveSave
SaveSave
SaveSave
SaveSave
May 21, 2017
Author events, Awards, Book Review, Germany, Historical Fiction, History, Reading, Solingen, Two Families, war children, World War II, Writing, WWII
***More than 10,000 copies sold since March 15, 2017***
***#1 Amazon Bestseller in German Historical Fiction***
I'm humbled and excited to announce…
FOR IMMEDIATE RELEASE:
Contact: Annette Oppenlander/812.391.6310/Annette.oppenlander@yahoo.com
11th ANNUAL NATIONAL INDIE EXCELLENCE® AWARDS ANNOUNCED
Local Author receives national recognition from the 11th Annual National Indie Excellence® Awards!
Los Angeles: — The 11th Annual National Indie Excellence® Awards recognized 'Surviving the Fatherland: A True Coming-of-age Love Story Set in WWII Germany' by Annette Oppenlander in the category of 'Faction' as a winner in this year's competition.
This prestigious National award is open to all English language books in print from small, medium, university, self and independent publishers.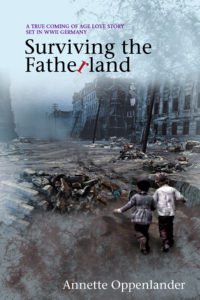 The National Indie Excellence® Awards exists to help establish independent publishing as a strong and proud facet of the publishing industry. Recognizing authors that put their heart and soul into their work, the NIEA is a champion of self-publishers and the small, independent presses that go the extra mile to produce books of excellence in every aspect. Established in 2007, the NIEA competition is judged by experts from all aspects of the book industry, including publishers, writers, editors, book cover designers and professional copywriters.
Winners and finalists are determined based on 'overall excellence of presentation- a synergy of form and content.' Spanning thirteen years from 1940 to 1953 and set against the epic panorama of WWII, 'Surviving the Fatherland' is a sweeping saga of family, love, and betrayal that illuminates an intimate part of history seldom seen: the children's war.
'Surviving the Fatherland' tells the true and heart-wrenching stories of Lilly and Günter struggling with the terror-filled reality of life in the Third Reich, each embarking on their own dangerous path toward survival, freedom, and ultimately each other. Based on the author's own family and anchored in historical facts, this story celebrates the resilience of the human spirit and the strength of war children.
"We are proud to announce the winners & finalists whose books truly embody the excellence that this award was created to celebrate, and we salute you all for your fine work." –Ellen Reid, Founder NIEA
For more information please visit: www.indieexcellence.com
SaveSave